Forum: TRANSMISSION/REAREND/BRAKES/STEERING
Topic: Ultimate Astro 5 speed manual transmission build
started by: yeyhoo
---
Posted by yeyhoo on Jan. 26 2006,5:13
How to Beef up the Astro's weak Borg Warner T5 5 speed manual transmission. Ditto Safari.

Hi fellow van owners. I'm writing this article because I wish I had all the information on this subject available in one place when I started a bout towards building a stronger 5 speed. Yes, I admit that's a narrow dream but hey, we are all M-van owners here aren't we? That in and of itself means we are all a little nutty already. I don't profess to be an expert on automotive technology. In fact I consider myself just a typical shadetree mechanic with an average mechanical aptitude. With that in mind I still hope my article can help your dream come true a little easier for you than it did for me. There's a lot of work here, so why keep it all to myself? Enjoy!

INTRO

The main focus of this article is on upgrading an existing 5 speed Astro. This article will try to alleviate some of the headaches for you that I had when I was trying to figure out what to do. I'll attempt to explain what fits, what doesn't, and where to buy parts. It will be up to you to tally up a cost for your project. A very small aspect of this article is theory and will be up to you to do further research. For the most part, the article is based on an actual build.

I will show you how to upgrade the stock trans from it's 175 ft/lb torque rating to something that will handle about 260 ft/lbs torque on a low budget to one that will handle 330 ft/lbs or so on a modest budget. And last, one that can handle 500 ft/lbs torque on an all out budget. Caution!Torque ratings are estimates that will vary depending on traction and weight. More weight and better traction tires lowers the ratings. To be safe, assume these are all MAXIMUM ratings.

The Borg/Warner T5 basically comes in four versions. Non World Class NWC and World Class WC each with Chevy and Ford front to bellhousing bolt patterns. The applications spread out from there with a variety of tailhousings for both RWD and 4WD cars and light trucks. These transmission were used in Nissans, Jeeps, Isuzus, and of course Chevys and Fords.

Interchanging parts is fairly straight forward. NWC and WC gears, synchros, and shafts and cases do not mix. About the only mixing of WC and NWC parts you can do is put NWC tailhousings on WC cases and vice versa. Lids, shift forks, and shiftershafts as grouped in their own class can be used on top of the opposite class transmission to create a hybrid sort of trans. Summary: WC gears, synchros, shafts, and rebuild kits must be used together in a WC case. Likewise NWC internals must be used in a NWC case. There are a few internals that work in either class such as reverse gear, back-up switch, 1st/2nd and 3rd/4th gear synchro sliders, case lids, shift forks, and a few other small parts.

PREPARATION

The T5 Transmissions that came in the Astro are NWC with the Ford style maincase but with a Chevy spec input shaft length. Although the Astro uses a Chevy to Ford bellhousing it is the proper depth to accommodate a normal Chevy input shaft length on the trans. Other aftermarket Chevy to Ford bellhousings such as from Lakewood are deeper than the Astro's because of the Ford's longer input shaft that a normal Ford trans has. My way to do this build is to stay with the Ford style trans. This saves from having to change out the bellhousing and possibly the hydraulic clutch slave cylinder. I am also building mine to handle nearly the highest power possible. You are free to choose any of several methods that will be explained shortly. The Camaro T5 uses the Chevy or Muncie type mounting bolt pattern. Camaro bellhousings use hydraulic clutch and Chevy/Muncie bolt pattern but will not work because it tilts the trans to the left 17 degrees to get the shift lever closer to the driver. Maybe a bellhousing from a newer V8 full size truck can be found. I do not know. There's a lot of V8 Muncie bellhousings from older Chevys but they use mechanical clutch. The Lakewood LAK-77-150 bellhousing allows you to use a Camaro T5 behind a 90 degree V6 or V8 but is also designed for a mechanically actuated clutch. You could modify any of these bellhousings by fabricating and welding a bracket for the hydraulic clutch slave cylinder. Therefore having an Astro bellhousing makes life easier.

There are no aftermarket / high performance upgrades for NWC model T5 transmissions. To build the strongest high performance trans you must build a WC trans. These are plentiful due to their popularity in V8 Ford Mustangs from the mid 80s to 1995 and from 1988 to 1992 in V8 Camaros. However there is a way to get a modest power handling upgrade using all NWC parts so here we go.

In the three methods I outline there are instructions common to all three and there is some repetition. If you want to skip any of it, methods one and two add 100 ft/lbs capacity to the Astro's five speed. Method three shows the higher gains possible.

BUILD METHODS

First and cheapest method to get a stronger trans is: As mentioned a little earlier, find a non-Camaro V8 GM bell that uses hydraulic clutch, if possible. Or use an old Muncie bellhousing or the Lakewood LAK-77-150 and fabricate a bracket for the slave cylinder mounting. Then buy a V8 Camaro T5 trans. Get a WC for a future gearset upgrade as funds become available. A NWC will be perfect if a one time upgrade is as far as you want to take your project for now and in the future. Take your Camaro trans and swap its tailhousing, lid, and shifter shaft / shift forks with your Astro's T5 tailhousing, lid, and shifter shaft / shift forks. That is all you have to do if the trans is in good shape. You aren't really tearing into the trans in this method. There is one problem. The speedo drive gear on the Camaro trans won't line up with the hole in the Astro tail. A link at the end of this article addresses that issue. To finish up you'll need to replace your 11" - 1" x 14 spline clutch disc with an 11" - 1 1/8" x 26 splined disc. The trans will install into the van like the original but will handle an extra 100 ft/lbs.

Second way to beef up the trans is to buy a NWC Camaro trans in good condition for it's internal parts. Since you will be tearing the transmission down anyway, it is best to get a rebuild kit with new synchros and small parts. Take the gears from the Camaro trans with the new parts and use them to rebuild the Astro trans. Remember NWC internals work in any NWC case. OEM NWC gears are still available to assist in that area if necessary. During the rebuild you will use the Astro mainshaft. To repeat, you are using the Astro trans maincase / tailhousing with Camaro gears / cluster / input shaft, rebuild kit, and Astro mainshaft. The nice part of this method is that there is no speedo issue or bellhousing issue. But you do have to completely tear down and rebuild the trans. This will net you a trans with factory Camaro power ratings or about 265 ft/lbs handling. Replace the Astro 11" - 1" x 14 spline clutch disk with an 11" - 1 1/8" x 26 spline disk. Same as method one, extra 100 ft/lbs.

In the third method I'm going to combine the choices of gears and mainshafts for several different obtainable power levels depending on your choices. The third method is to buy a "super alloy" 2.95 gearset and request an oem V8 Camaro / GM input shaft with your order. Remember, these are aftermarket / high performance WC parts and you will need a WC maincase. Use any Ford case but one. Avoid using the Turbo 4cyl Ford maincase as it uses a different IBR diameter. Another source for Ford type cases is from the '93 - '95 V6 Camaros. From here there's two choices. One is keep your Astro as stock (oem) as possible which means you have to use a WC Ford style maincase so your trans will mount to the Astro's bellhousing. Or two, use a Chevy bell (see "preparation" and first "build methods") and a WC Camaro maincase. From here there's another decision to make. Either use a WC Camaro mainshaft or a WC S-10 2wd mainshaft. The S-10 only had the WC T5 in 1993. That's it but that shaft may have also been used in '94-'96 4 cyl and small 6 cyl (under 3 liter) S-10s, I'm not sure. The pre '93 S-10s are NWC. The advantage of the S-10 WC mainshaft is the speedo gear location on the shaft lines up with the hole on the Astro tailhousing. The Camaro shaft needs the speedo gear mod but otherwise works fine. At this point we have the makings for about a 330 ft/lb rated trans. For a stronger trans get a G-Force gearset and use it with a factory mainshaft. Good for about 400 ft/lbs. And finally the strongest method is G-Force gearset and a G-force 9310 mainshaft. Good for about 500 ft/lbs. As of this writing however the 9310 alloy mainshaft is only available in the Ford 28 spline configuration. This means a Ford yoke and conversion u-joint are required, as is 28 spline 5th gears, and the speedo gear mod. Thank goodness the same tailhousing output bushing size is used no matter what shaft / yoke you choose. Build the WC case with chosen gears and shaft. Get a countershaft support plate from 5speeds.com to support the case around the countershaft bearing better. Buy a WC 5th gearset and WC 5th gear synchro slider assembly. Then use the lid, shifter shaft / shift forks, reverse idler gear, 1st/2nd and 3rd/4th synchro sliders, and tailhousing, etc. from the Astro trans to complete the build. Then use an 11" clutch disk with the 1 1/8" x 26 spline center hole.

CRUMBS

The z-spec or Cobra T5 uses different interface and bearings where the input shaft meets the mainshaft. Only way to use this trans as the core of your build is to figure on adapting a Ford clutch and a special pilot bearing for the flywheel. However the Ford input shaft is longer than the Chevy's. But this would let you use a Chevy to Ford adapter bellhousing mentioned earlier. I would stay away from this method because it moves the tranny back causing more issues. But one thing is certain, can't use a GM input shaft with a z-spec mainshaft. I believe the z-spec was used in some '94 and '95 Mustangs.

CONCLUSION

In summary the T5 on the inside is neither Ford nor Chevrolet. It is Borg Warner/Tremec. That is why so many parts are interchangeable. It's why Ford gears/shafts work in Chevy cases and Chevy gears/shafts work in Ford cases. It's the mounting flanges, input/output splines, gear tooth counts, gear ratios, and other small features that identify one T5 as being a Chevy trans or a Ford trans.

BRIEF WORD ABOUT AUTO to MANUAL CONVERSION

To convert an automatic transmission Astro over to the 5 speed you will have to obtain an Astro T5 trans along with the remote shifter assembly. The remote assembly offsets the shifter about 8 to 10 inches closer to the driver. An S-10 transmission will not work as its shifter location is 2 inches or so farther forward on it's tailhousing and will put it right under a frame crossmember. Also for an auto to manual conversion you will need the Astro bellhousing, clutch master and slave hydraulics, and of course the clutch pedal assembly.

RESOURCES

OEM specs for the Astro trans are:

175 ft/lbs
1st: 3.50:1
2nd: 2.14:1
3rd: 1.39:1
4th: 1.00:1
5th: 0.73:1
1" x 14 spline input shaft.
27 spline output

Upgraded specs:

265 ft/lbs, 300 to 330 ft/lbs, 400 to 500 ft/lbs
1st: 2.95:1 or 3.35:1 w/ G-Force gearset.
2nd: 1.94:1
3rd: 1.34:1
4th: 1.00:1
5th: 0.63:1 or 0.73:1 w/ oem 5th gear
1 1/8" x 26 spline input shaft.
27 spline output or 28 if using G-Force mainshaft, Ford slip-yoke, and conversion u-joint. G-Force 5th gear is available only for Ford 28 spln.

The 3.35 gearset is what's used in Mustangs. The only way to use a GM input shaft with this gearset is through G-Force. Otherwise you have to build a 2.95 geared trans.

same WC rebuild kit works in either WC ford or chevy tranny
same NWC rebuild kit works in either NWC ford or chevy tranny
can't use NWC kit on WC trans and vice versa

'82 - '87 Camaros are NWC.
'88 - '92 Camaros are WC.
Camaro/Firebird use mechanical speedo '82 - '88, electronic '89 - '92.
'83 - '85 Mustangs are NWC.
'85 - '93 Mustangs are WC.

T5s from 4 cylinder cars and trucks are weaker than v8 trannies and have less desirable gear ratios.
T5s from '94-'96 S-10s and '93-'95 v6 Camaros use a 1 1/8" x 26 spline input shaft but it is to long to use here, not to mention wrong tooth count (gear).
T5 tailhousings from S-10s have shifter location a couple inches farther forward than the Astro's tailhousing does and its shifter location will interfere with the frame crossmember. The speedo connector location is the same on both S-10 and Astro tailhousings.

IBR = Input Bearing Retainer
mainshaft aka output shaft
shifter shaft is internal shaft on top of trans connecting the gear selector lever from your hand to the shifter forks inside the trans that engage and disengage the proper gears for each drive ratio. The shifter shaft used in the Astro is shorter than the ones used in Camaros and Mustangs but a little longer than the ones used in S-10s.

Astro uses mechanical speedo '85 - '88, electronic in '89. '90 and up vans were all automatic trans.

Astro Bellhousing is 6 5/16" inches depth.

Compatible clutch disc: Any Chevrolet 11" disc with 1.125" 26 splines.
clutch kit assembly: Clutchmasters, Centerforce, Hays for 14" flywheel. As above.
throw out bearing: stock Chevy

< How to correctly identify a T5 >

< Speedo gear conversion >

< high performance/"super alloy" gears, more >

< high performance and racing gears and shafts >

< small parts, oem gears, maincase, rebuild kits, countershaft support plate >

< rebuild manual, Acrobat pdf >

< rebuild video, rebuild kits, more >

< Rebuild saga, Acrobat pdf >

< page with facts, numbers >

< AstroSafari thread >

< AstroSafari thread >

< Kudos to 89fivespeed for inspiration! >

< Kudos to V8Astro Captain for 89fivespeed's inspiration! >

< www.drivetrain.com >

Cheers,
---
Posted by yeyhoo on Jan. 26 2006,5:14
Haven't done anything to my van since late April last year when I rebuilt the < third member. > The next project is rebuild my t5 5 speed manual transmission upgraded with G-Force gears and a new clutch for the once 14, soon to be 26 spline input shaft. Eventually a v8 goes in. I have to save up for it first though. Will this van ever get done?

Just for the fun of it. Original trans rated at 175ft/lbs torque.




Winter '05: Ordered all the parts I can think of from far away. Then I'll have it built locally. I'll keep everyone posted on the progress with more photos. I'm getting closer to actually making some progress on this van for a change.

Later: Parts on order but 4 more week wait. Be after the new year before I get rollin'.

End of '05: G-Force gears came in early. Had to take a picture of the awesome lookin' things before they go in. The stock T5 trans is a weakling. The gear upgrade will make it handle about 500 ft/lbs. of torque. That'll be nice for the v8 slated for sometime in this lifetime.



There's 3rd, 2nd, 1st, input shaft, and counter gears (cluster). You all do know that 4th is direct drive, therefore no gear needed don't you?

5th gear will be OEM, not shown.




Mid January 06: Have all the parts but haven't got van apart yet. I'm going to try to accurately detail the build so others can do their vans too. What? Maybe 4 people in the whole wide world will do this? Anyway, hang in there, I'll get this thing done eventually.

Yesterday: Said to myself. Do it. Drove the van up on ramps on the gravel driveway and started unscrewing the shifter knob and drained the fluid. (It was ATF) Dropped the driveshaft, unplugged reverse lights wiring, and disconnected the speedometer cable. Put a jack under the trans, undid all the bolts rolled it back and it was stuck. Took out more pieces of the rear mount, shoved the jack out of the way, bench pressing the trans, I turned it on it's side and perpendicular, laid it on my chest, and then rolled it to the ground. That was fun. Check out the remote shifter assembly. Different isn't it? Also to note is the Ford style mounting face. Next thing to do is tear into the trans.

Anything missing?




Oh, there it is.




For serious strength gains the Astro's non world class (older generation) trans needs to be upgraded to a world class (newer gen) trans. To do that almost every part needs to be changed out. Especially the maincase. About all that will be used from the original trans are it's tailhousing, lid, input bearing retainer, remote shifter assembly, shifter shaft, forks, reverse idler gear, and a few other internal small parts. And there's 5th gear shown in this photo.


---
Posted by yeyhoo on Jan. 29 2006,7:37
The trans is at a shop for a week to be built up. In the meantime I'll get the pressure plate, clutch disk, and pilot bearing out of the flywheel and post pix in a few days. Got to figure out a disposable clutch disk solution since everything including the flywheel will be replaced when the V8 goes in so it can bed in properly. Maybe a $34.00 disk for a '71 Camaro 396 will do the trick behind the v6 for now. Find out later.
Internals of the remote shifter assembly. It acts like a normal shifter in it's movement, nothing unusual about the transmission itself to accept it.


---
Posted by yeyhoo on Feb. 02 2006,5:39
Quote (aladgie @ Jan. 29 2006,10:06)
I wonder if that shiffter off set would work on a six speed DO you have to remove the cover to get that off the trans?

See the four torx head bolts? That's all that holds the shifter assembly to the trans. That plus two braces bolted on the side. So 6 bolts takes it off. The four on the top are 2.875" on center side to side and 3.4375" on center, front to back.

Update on the build. Transmission was supposed to be finished today but the guy hasn't even started on it!

I have the flywheel back on after checking the rear seal, a new pilot bushing in, the new clutch lined up behind the pressure plate bolted back on. Bellhousing and slave cylinder are in. The van is ready for it's new tranny and so am I.



So...To keep it interesting here's the new and old clutch discs. The hub offset isn't a problem. It will ride on the tranny input splines just fine. It is just a little farther forward on it than the Astro's clutch was as shown here.




Here's the Astro bellhousing in more detail.




Cheers
---
Posted by 89fivespeed on Feb. 02 2006,7:47
Yeah I agree the 3.5 1st with a 3.42 is a little short, but the setup now requires a little more slip to prevent it from bogging with the v8, I think I'll try a 3.73 rear if ever I redo the rear end. It was a surprise to me that first is fully synchroed so you can take right turns using first without the need to rev match. You'll have to tell the board what you think of the noise. My gears are pretty loud. You can hear the input shaft spin up just puting it into gear but the singing really comes alive under engine braking.
---
Posted by yeyhoo on Feb. 04 2006,1:36
My Richmonds already sing a harmonious tune down the highway especially past 70. I'm assured this is because the gears are cut straighter for more strength than factory gears, thus more noise. As are the G-Force gears in the trans. I guess with the new trans I'll be traveling with the whole choir, so to speak. As far as gears to tall or short, I won't know 'til v8 day. If the van gets to noisy I'll sound deaden it.
---
Posted by yeyhoo on Feb. 21 2006,8:04
Hey everyone. Sorry for the long delay. Shop had trans for an extra week. Somebody opened the floodgates and let in a whole lot of Canadian air that froze half of the United States. I'm working on this outdoors so the cold weather put things on hold. But that's all history now. The transmission went together as planned except for I had to get a new 5th synchro slider. The one from the old trans was incompatible with the new trans. 1-2 and 3-4 sliders worked. Here's a picture to compare the new case and input splines with the pictures earlier.




Transmission weighs about 90 lbs. I rolled it on top of me, pressed it up so the tail hanged on the crossmember. Took a few breaths. Rotated it around trying varying positions to get the front shaft to get into the bellhousing hole while the tail was hitting the exhaust. It has to go up sideways on it's side with the remote shifter pointing down, then rotate upright and end to end to get it in place. It wasn't exactly easy as my arms tired from length of time I was pushing the weight of it up. At the same time I had to adjust the jack holding the engine to get a better angle for the trans to go in. Did that with my leg with the trans in my hands. What fun. Got input shaft through clutch disc but couldn't get it into the pilot bearing without the wife pressing in the clutch. Then it went in immediately. Bolted it all up, put in a new tranny mount. Topped off with Dextron 3.

As you can imagine, by now I'm excited and can't wait to take 'er for a spin. So anxious I didn't get the shifter boot on, just the lever. So there's a hole around the shift lever where I can see the ground and hear the sound. Speaking of sound, it's noisy. 1st, 2nd, and 3rd sound like a coffee bean grinder synched to the rpms of the engine. But it performs nicely. Shifts are more crisp and tight. Downshifting is much better. I love the gears spooling up to sync making a whooshing sound. It goes into 1st gear so easily when still doing 25 or 30mph. The slightly taller first gear isn't much different than the old. With the v6 I'm not really having to ride the clutch to very long. I hope after it breaks in and loosens up a bit it'll quiet down but we'll see. Plus putting the rubber boot back in on the floor will help.

There's only one problem. When I go into reverse it grinds a little tiny bit. I think it's the new clutch disc being thicker. I have to push the pedal closer to the floor to release the clutch. The van isn't trying to move but I hear the internals of the trans kind of spinning. I try to put it in any forward gear and I can hear them stop and go into those gears without any grind. I'm not sure what is up, but I'm for the most part happy because it's basically DONE! ...FINALLY!

Cheers
---
Posted by peter on Feb. 23 2006,2:52
I'm happy to read that you're pleased with the results. You had me chuckling when you were explaining your balancing act underneath the truck, did a lot of that when I was younger


If sticking the tranny into a forward gear before hitting reverse is your biggest issue, I'd say you're one lucky guy

---
Posted by 89fivespeed on Feb. 23 2006,4:34
I'm glad to hear that its loud. I take that to mean mine is put together properly. If you sit in neutral with the engine running and the clutch released, can you hear the input shaft? The zing of the gears downshifting is kickass, my passengers have been known to mimmick it.

As far as the reverse grind, mine did it before and it does it now. I just always slip it into third right before reverse to make sure the front of the transmission is stopped. I do it on both my cars now and I've noticed by buddy does it in his car. Or if I sit with the clutch in and give it a second it won't grind.

I don't know how worn your transmission was, but one of the biggest differences in mine is the slop in fifth, or lack there of. Before I had mine redone, the driveline would bang loudly if I got on and off the gas in fifth. I assume that was the effect of the case stretching that the 5speeds gear support addresses.

I'm also glad to hear that you just run ATF. I was tempted to get the g-force gears fluid, but Paul at 5speeds made no mention of it and the case he sent me said ATF only right on it.
---
Posted by yeyhoo on Feb. 23 2006,8:55
aladgie: No one two chirps until a proper break-in and until after a v8. I'm doing this wrong, I shoulda got the motor first.
Oh well, should be able to handle a lot of power. About the cold? I like the Canada air, very refreshing. Just don't care to turn wrenches in it is all.


peter: Luck? Nah. Skill. Ha Ha. I'm kidding. I am surprised at how straight forward the conversion is and how very few snags there were along the way. The '93 mainshaft from an s-10 with an electronic speedo works perfectly with my mechanical speedo. I selected an 18t plastic drive gear and my speedometer is now accurate once again. It was running fast because of the rear gear swap.

89fivespeed: Mine keeps spinning. It even starts to spin again from the time I get out of 3rd and put it in reverse. Hopefully that will eventually stop when things loosen up in there. (break-in) Or my clutch is dragging. My old tranny was in good shape. I got the van from the original owner who must have just babied it. I'm looking at the parts from the old trans and they look nearly new. In fact on the nwc maincase there is no counterbearing support plate provision of any kind. No screw holes, nothing. Just aluminum with the bearing race pressed in. Bad design. Even the wc trannies had a cheap stamped steel support. The < 5speed stabilizer > is a great idea.
---
Posted by 89fivespeed on Feb. 24 2006,3:27
Reading through your post again, I'm wondering about the offset of your new clutch. It sounds like something doesn't fit right. My tranmission went in without pushing the clutch and it seems like your reverse problem must be a dragging clutch. I'd suggest the slave cylinder but mine is a lump of 17 year old rust and if it didn't tire out my leg it would still hold a 400hp clutch through a stoplight.
---
Posted by yeyhoo on Feb. 25 2006,7:21
During the assembly of the clutch, pressure plate, and bellhousing I marked a wooden stick with index lines of exactly where the pilot bearing, clutch disc splines, and bellhousing are by sticking it through into the pilot bearing and idexing it at the parts it passed through. When I got the tranny from the shop I used the stick and everything lined up perfect. The disc splines landed right in the center of the input shaft on the trans. And the offset hub didn't even come close to hitting the flywheel, there's a pocket there. As far as having to push the clutch to seat the tranny, that's nothing more than the disc not being perfectly centered when I tightened down the pressure plate. When she pushed the clutch pedal that just allowed me to center the disc with the transmission as it found it's way home (input shaft into pilot bearing).
Good news! The problem is going away the more and more I drive it. I talked to the shop and he said he assembled the trans dry. I didn't install it dry but the fluid must be finally working it's way into the tight areas. On the bench I put a quart of fluid in and turned the gears with the tranny in several positions to get the fluid spread around as much as possible. Even had it upside down once, spinning the shafts.

Anywhoo, couple questions for ya.
What slave cylinder do you have on your van?
What model number is your ClutchMasters clutch?

Thx
---
Posted by 89fivespeed on Feb. 28 2006,2:38
I have the original slave cylinder as far as I know, if that's helpful. The model number of the clutch eh? What I did was call Clutchmasters and say I need a clutch setup that will fit a GM truck's 14.25 inch flywheel, but that has a disc that will accept a camaro input shaft. He said I have one that will hold 400hp. I asked if it would be streetable. He said yep, nice and smooth. I said I'll take one, he said $385.00 I said to myself damn. But it sounded good so I ordered it. I have no idea if it is even ordinarily offered or if it is a combination of other off the shelf parts.
---
Posted by yeyhoo on Feb. 28 2006,6:47
Yes, big help. Thanks. Well everyone, I'm tapped out on the subject. My wallet is tapped out. I'm outta here. I'll be around for questions from the... uhhhm remaining handful of people in the world who have 5 speeds that want to do said build up. Of which only half will need any help. It's pretty much all here. Just read it and do it. Time for me to start planning the 8. Nature knows I'll have plenty of time for that as I save up.

Latest: My trans is working perfectly. No reverse grind, don't have to shift to 3rd beforehand.



Cheers,
J
---
Posted by rlsllc on Jun. 09 2006,6:51
Hello Yeyhoo,

I have read this topic several times, and it is awesome. I do have a question for you: I have access to a 90 or so Mustang WC T5 that works fine but would need to be freshened up. I like the gear spacing on these transmissions, and feel that it would be strong enough to live hapily in my van given my driving style and engine power level. I understand that I would be able to use the Astro tailshaft on the Mustang trans, and that the case will bolt to the bell, and I'm thinking that I will need the 93 S10 WC mainshaft, but I'm unclear about the input shaft.
I also saw that you mensioned using a 93 S10 trans, and I wondered about going that route, providing that I could locate one.

I would like to upgrade to the WC, but don't need a bulletproof set-up like what you've put together, and I also have a modest budget to work with. I am patient, and will look for a good WC that is close to compatable if there is one, and change parts on it to make it work.

So, what do you think?
---
Posted by yeyhoo on Jun. 21 2006,2:37
Ford input shaft is too long for the Astro's bellhousing and is 10 splines. You could use that trans with a Ford clutch disc, special pilot bearing, and an aftermarket Ford to Chevy bell but the trans will set farther back than original. You wouldn't need to swap the mainshaft, just relocate speedo gear on shaft when you swap tailhousings and use a Ford yoke and a conversion u-joint. Maybe have to shorten driveshaft. That's what I think I know. Getting rusty on it all now because with mine being done, haven't thought about it since.

---
Posted by yeyhoo on Sep. 04 2006,8:37
Finally restored the article to the beginning post without it truncating. And also I want to thank whomever stickied this for me. Kinda makes me proud, like earning a patch in boyscouts or sumthin'. HeHe.



Update: Haven't done anything to van but drive it and plan for the motor.

Cheers
---
Posted by ryanhettenbach on Sep. 12 2006,12:03
SWEET! it's back. I don't know where it went, but most of your write-up was missing for a while.
Anyways...
This is all great info! I'm in the process of rebuilding my '89 NWC T5 right now and without this tread I'd be lost.

So far my t5 rebuild consists of the following...
NWC Main case out of a '83 mustang
Tailhousing, Mainshaft and top hat assembly out of a late 80's S10
Input shaft, countershaft and all gears/hubs from a 85 Camaro
so far everything seems to be going together just fine.



In my searches, I've also found a T5 Expert that will sell rare parts if you're in a pinch. Just tell him that Ryan with the Astro Van sent you. He's one of the few trans shops that actually knew the T5 was available in the Astro before I called him. He hooked me up with the S10 parts.

Ed Hartnett
610-623-9381
EH4SPEEDS@aol.com
and his shop is located at
242 Pembroke Ave
Lansdowne, PA 19050

very cool guy and knows his stuff too.

If you need new replacement parts i recomend
< tbTrans >
I got a new countershaft online from them for $106 when other shops were charging over $200.

Lastly, if you're gonna rebuild the trans yourself, call up Bob Hanlon at < Hanlon Motorsports > and order the T5 rebuild video along with his master rebuild kit. With this video i've realized that even a monkey could rebuild T5. In the video he rebuilds a WC trans but MOST of the steps still apply to the NWC.

I'm still waiting to get my hands on a digital camera for cheap so I can get my website up and running.
---
Posted by rlsllc on Oct. 03 2006,1:45
If your only goal is to tow in OD, have the auto rebuilt with the added clutches and add a BIG stacked plate cooler. The T5 isn't a really good choice for towing, and it is a big job to do the swap. Just finding the parts is a chore. I had to buy an entire van, and haul it home 150 miles.
While you're at it, you may as well swap in a V8, since the 4.3 isn't going to tow well in OD, especially in hilly terrain.
I could be wrong, but I doubt you will see any increase in mileage towing in OD with the v6.
---
Posted by yeyhoo on Oct. 05 2006,9:41

(ryanhettenbach @ Sep. 12 2006,15:03)
QUOTE
So far my t5 rebuild consists of the following...
NWC Main case out of a '83 mustang
Tailhousing, Mainshaft and top hat assembly out of a late 80's S10
Input shaft, countershaft and all gears/hubs from a 85 Camaro
so far everything seems to be going together just fine.


Ryan,
Part of my original writeup states that the s-10 tailhousing moves the shifter forward and into the Astro's frame crossmember.
Just a heads up.
Since you have an Astro 5spd already all you really need from your list is the parts from the Camaro. But I take it you are building this to have two trannies?
Cheers
---
Posted by ryanhettenbach on Oct. 08 2006,5:20
I realize that using the s10 tailhousing is going to move the shifter location. Unfortunately I don't really have a choice right now. My astro tailhousing is ruined and I've pretty much spent a better part of 7 months trying to find a new one. I finally decided to just use the more "popular" S10 style tailhousing.

I also realize that I'm going to have to cut into the crossmember under the floor for the new shifter location. It appears to be a simple stamped steel brace spotwelded to the floor and I don't feel that cutting into it will affect the strength of the floor that much.

if you look in this thread you can see this person cut the floor also.
< http://www.astrosafari.com/cgi-bin....t=16724 >
well....that is if the pictures ever get fixed.

I'm still working on my website (www.mycustomvan.com) with more details and pics but that will be coming soon.
---
Posted by ryanhettenbach on Oct. 09 2006,7:47
Here's why i couldn't use the astro tailhousing. It's pretty beat up in there.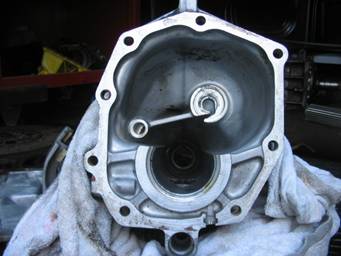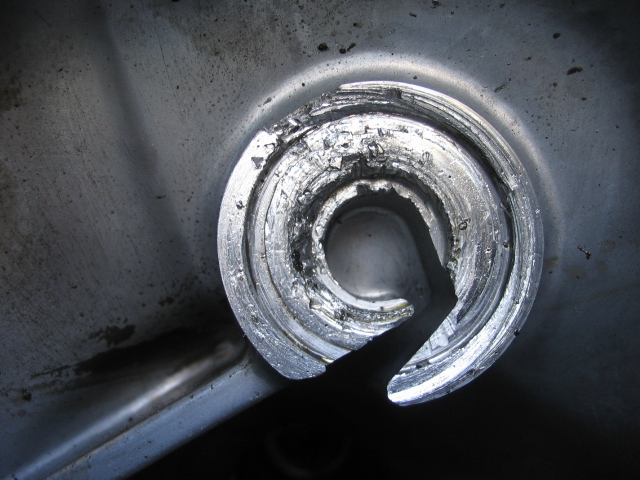 ---
Posted by ryanhettenbach on Oct. 10 2006,11:56
I actually thought about having that welded up and then machined. It was going to be the last resort if I couldn't find ANY tailhousing that would work. However, after I spoke to a few transmission shops, they all said not to re-use that beat up tailhousing at all.
---
Posted by ryanhettenbach on Oct. 12 2006,7:53
ok, the s10 hybrid trans is in! here's a few pics of the hole i had to cut for the new shifter. The hole i cut is pretty rough but i plan on cleaning it up a bit. I did have to cut into the sheet metal crossmember under the floor but I did not completely cut thru it. This way it still keeps some of its support. The photos don't really show what I did well so i made a really rough diagram.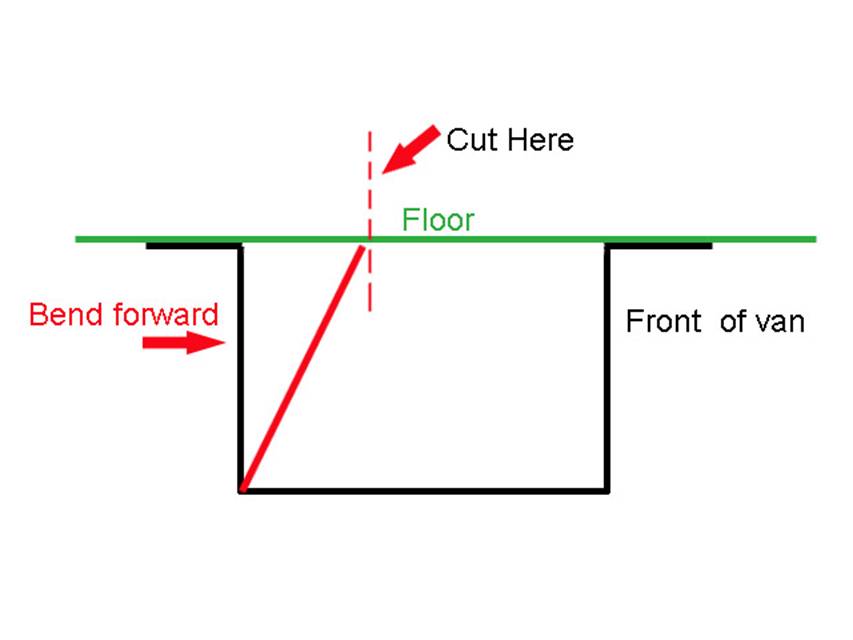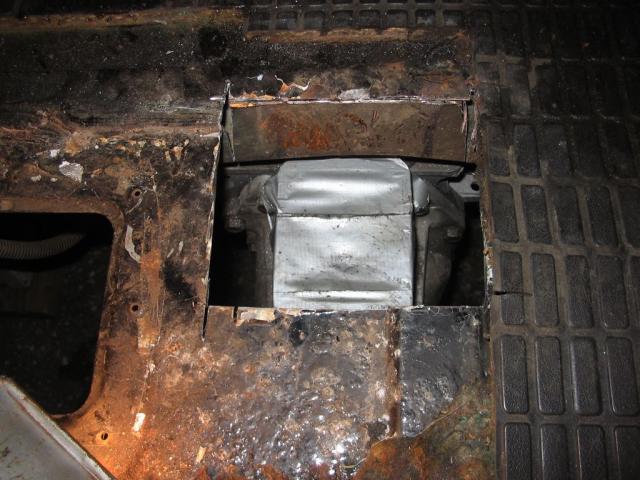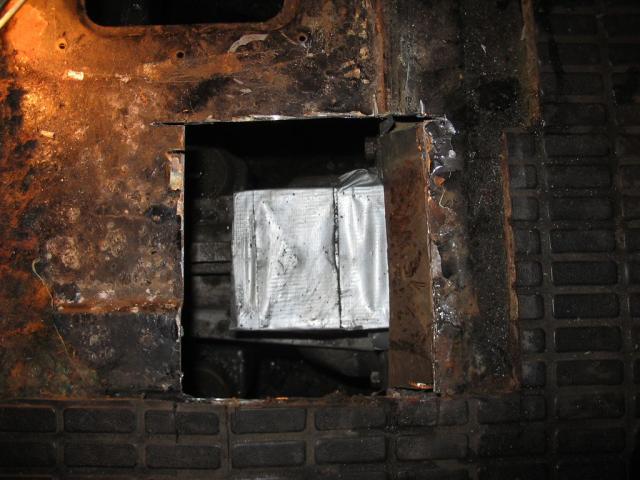 now i just need to make up a custom "hot rod" style shifter.
---
Posted by ryanhettenbach on Oct. 22 2006,5:10
took the van out this weekend. 1st and reverse grind a little and i think i might have to add a little more clutch fork travel but otherwise everything works and it goes into each gear. I'm in the process of making the custom shifter and I will post pics once it's done.
---
Posted by mtrhead79 on Oct. 22 2006,5:54
this might be a stupid question but could you use the world class camaro trans with it tilted the 17 deg. and use a normal shifter. would the tilt get you closer to the driver. or will that just get you a slanted shifter
---
Posted by rlsllc on Oct. 22 2006,7:45
It is actually the bell housing that creates the offset to the left, the shifter (or tailshaft housing, I can't recall) actually tilts to the right so that it sits upright. The Astro trans uses a Ford mounting pattern, unlike the F-body trans, which uses the "Saginaw" pattern. I guess you could use the F-body trans and bell, that may actually get it close. Getting the trans mount right would be a bit tough, since it is way different on the F-body vs the Astro.
Did you look into that option, Ryan?
---
Posted by ryanhettenbach on Oct. 23 2006,5:44
Yup I looked into that option too :)
In order for that combo to work (without modification to the stock crossmember) you need to use the F-body bellhousing, trans AND tailhousing. However, with this setup the shifter would literally be BEHIND you. You'd still have to make a long custom shifter.
Your other option is to use the F-body bellhousing, transmission and put a S10 tailhousing on. This moves the shifter forward to where mine is. The problem with this setup is that now you have to modify your crossmember because the mounts on the tailhousing are now tilted. I can take a picture of the F-body, S10 and Astro tailhousing all next to each other and you can see the differences.
---
Posted by rlsllc on Oct. 23 2006,1:55
No pics are needed, I was thinking exactly what you stated.

---
Posted by mtrhead79 on Oct. 23 2006,7:35
post pic if you can. the f body trans with the s10 tail would the shifter be close to the seat or would it wind up in the middle of the seats. i am asking because i have clutch peddal set up already & have my 350 i got out of a gta with corvette alum. heads was going to stay tbi though.thanks john
---
Posted by ryanhettenbach on Oct. 25 2006,2:18
Sorry for the late reply, i've been under the weather lately.
Ok, here's all 3 tailhousings next to each other.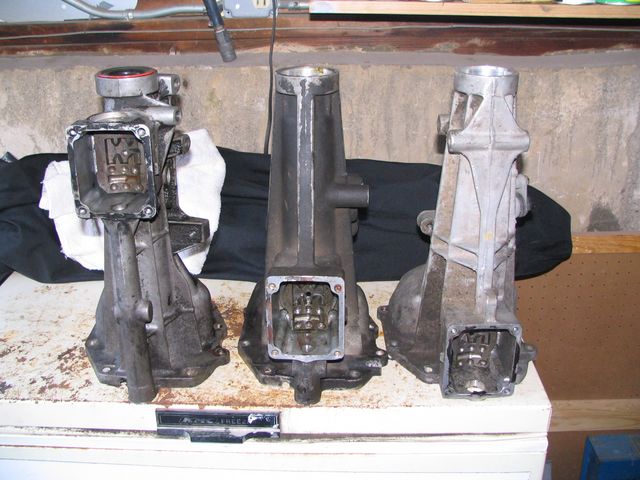 From left to right: Camaro, Astro, S10



This is the flange where the crossmember bolts to the tailhousing for the S10. Notice how it's NOT angled.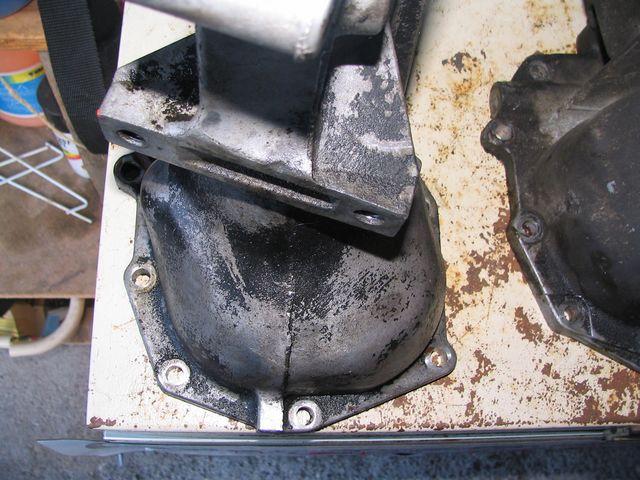 This is the flange where the crossmember bolts to the tailhousing for the Camaro. Notice how it IS angled.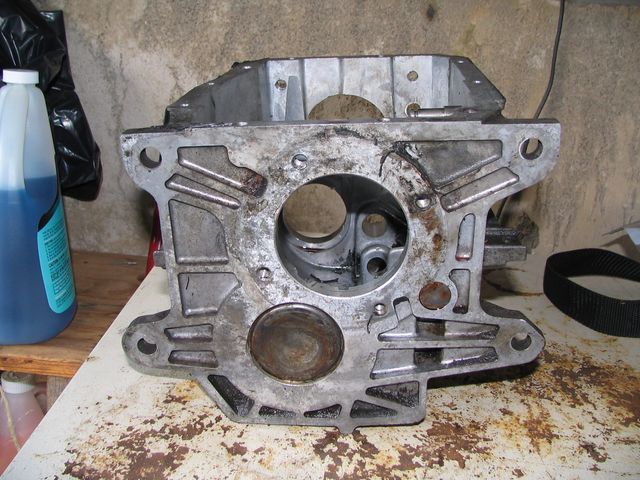 This is the "Chevy" style transmission case bolt pattern.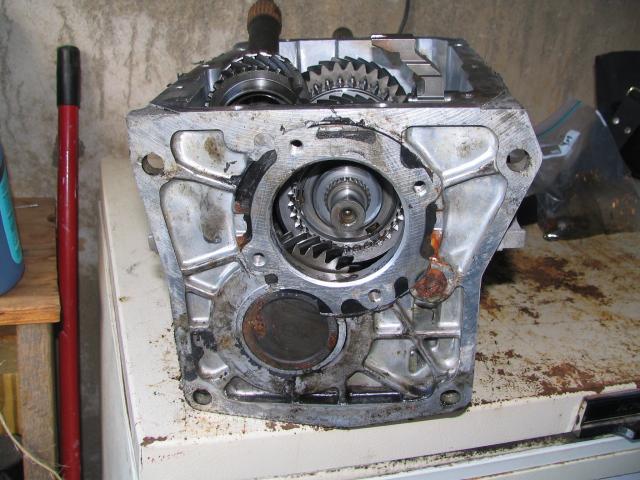 This is the "Ford" style transmission case bolt pattern.

for more T5 pics check out < My Pictures >
---
Posted by mtrhead79 on Oct. 28 2006,4:15
thanks for pics man you did your research. i thought about making a wedge to get the camaro mnt strieght but like you said then the shifter is way behind you.hope you feel better thanks
---
Posted by yeyhoo on Nov. 04 2006,7:51
Lookin' good Ryan, thanks for adding all your insight and info. Your direct shifter should be nice and crisp in that location because you're not using that oem "remote" shifter assembly. Keep up the good work.
Cheers
---
Posted by peter on Nov. 05 2006,4:59
Speaking of good work, when you planning on making use of the 500 lbs/ft capability of your tranny, Yeyhoo? C'mon now, you've relaxed enuf. Time to get off your keester and swap in that purdy motor from your avatar



---
Posted by yeyhoo on Nov. 05 2006,3:07
On my keester? What, isn't replacing all the balljoints, tierod ends, idler arms, and the springs on all four corners enough entertainment for you? Or have you not noticed?

Okay I'm messin' with ya. I just wanna save the best for last. Looking forward to the day that 8 goes in motivates me through all the stuff you have to do to a van with an 8 in it anyway. And the longer it takes the more time I have to think about it and the better it's going to be. So there.

---
Posted by ryanhettenbach on Nov. 15 2006,5:20
ok so I had my '89 out for a drive today and I'm noticing a pretty decent bog in 1st gear. It could be that my van needs a tune up but I just wanted to see if anybody who knows gear ratios can give some advice. I built my T5 using 1985 Camaro 305 internals with the following gear ratios.

1st = 2.95
2nd = 1.94
3rd = 1.34
4th = 1.00
5th = .63

my rear is a 3.08

I'm not really good with putting gear ratios into perspective so my question is, should i be running a taller rear? Would this explain the 1st gear bog?
P.S. I'm running a stock 4.3 V6.
---
Posted by canadavan on Nov. 15 2006,6:22
I don't know alot about gear ratios but that 3.08 ratio isn't going to provide alot of oomph. Try switching to a 3.42 or taller.
---
Posted by Boopvanner on Nov. 15 2006,10:17
My first 5 speed had a 4:10 gears in it.......

I'm finding that with my new van with the 5 speed that the RPMs are to low at cruising speed.....cruises great in 4th

I think that some one has changed the rear gears on this van....I'll open it up later to find out.....but this might be what you are experiancing
---
Posted by 89fivespeed on Nov. 16 2006,4:37
My van has the same 2.95:1 first, and with a V8 and 3.42 axel I thought it was easy to bog. I think I actually warned yeyhoo about how tall first is. I wouldn't say its a problem though, there are certainly taller setups, just get used to slipping the clutch a little more.
---
Posted by rlsllc on Nov. 16 2006,6:21

(89fivespeed @ Nov. 16 2006,07:37)
QUOTE
My van has the same 2.95:1 first, and with a V8 and 3.42 axel I thought it was easy to bog. I think I actually warned yeyhoo about how tall first is. I wouldn't say its a problem though, there are certainly taller setups, just get used to slipping the clutch a little more.

I'm surprised that you have to slip it with yur combo. That cam in a 350 should lug really well. I've driven many manual trans vehicles that have to be slipped a little to get rolling. No big deal.
My van has 3.73's in it, and I'm planning to put together a trans similar to Ryan's this spring, except I want a WC. I'm hoping the 3.73 will be right in the sweet spot. I'm running a 235/60 tire also, which may help.
I figure a 9"will be next after the trans. The 7.5" prolly won't do well behind a manual.
---
Posted by yeyhoo on Jan. 16 2007,12:14
I just thought of something that I've never mentioned or seen mentioned. I didn't just discover it, I've known about it since I first got my van but for some reason it always ended up as an oversight. But it is: There is a shift light in the lower left side of the instrument cluster in the dash. It comes on at an absurdly low rpm. I'm sure it's controlled by the ECM. You all know what it's for. When it lights you're supposed to shift gears. But it must be programmed for fuel economy. If I shifted when it said to I'd always be lugging the engine. I think it'd be cool write some code to make it come on at 5K or so. Of course I'll be tearing out the ECM when I swap the engine.

More interesting information is that when I changed the rear gears from 2.73 to 3.42 it had no effect on the operation of the shift light. Now of course my speedo showed higher speed than actual but all else was okay. When I rebuilt the trans I chose a different speedo gear to correct the speedometer and now it's back to within 1% of actual, just like it was before I did the 3.42. But! This fooled the ECM. How? Process of elimination. There are absolutely no wires from the trans except for reverse light switch. No problem occurred when I changed the rear gear. The problem only started when I changed the speedo gear. Therefore the ECM has to be doing a calculation between Vehicle speed taken off the speedo and engine rpm. It then compares the two and if the engine signal is over a predetermined amount higher than the speedo signal then the ECM knows you're not in your last gear so it can quit lighting the shift light above that engine rpm. So...what exactly is wrong? Nothing major. The shift light comes on in 5th gear and nags me to shift whereas before it didn't. The ECM is now fooled because the speedometer is slower in reference to the engine's rpms, which is all the ECM looks at. Now the difference between the two signals never becomes small enough to satisfy the ECMs preprogrammed value that let it know 5th gear. I thought it was interesting as to what must go on inside the ECM. Anywho...

And totally unrelated to that. Here's some photos of the clutch pedal assembly for reference.





---
Posted by 89fivespeed on Jan. 17 2007,4:31
Does your shift light not reflect engine load? Before the V8 and the loss of the light, I agreed with my shift light almost exactly. GM shift lights are pretty good I think. If I floored it, it wouldn't be back to bother me until 78 miles an hour or so in third. (3.42 rear stock) I'm pretty sure there must be a MAP calculation.

To me the light seemed to think like this. If you're pulling big vacuum at some higher-than-idle rpm, you should shift; unless the throttle's totally shut for engine braking. If there's no vacuum and the engine speed is safe, leave the light off.

My light doesn't work for now, you should disconnect your speedo altogether and see if it works.
---
Posted by yeyhoo on Jan. 17 2007,7:19
Yeah it comes on later and at higher rpms under load. Under most driving conditions, to me it comes on too soon. Anyway, it used to never come on at all in 5th. Since it does now there has to be a correlation between between the vss signal and tach. But you're right about vacuum. I didn't mention that. I'd say the computer looks at vss, tach, tps, and maf then. My bad. I was too focused on why the thing started coming on in 5th instead of everything. I'll try speedo disconnect but I'm pretty sure that won't make it work correctly. But it'll be a good test for a better insight to what's going on. Before I try it I'll guess that it'll either never light at all or stay lit continuously. Cheers.
---
Posted by rlsllc on Jan. 28 2007,3:14
There was a sensor of some kind on the back of the cluster on the '86 5 speed that I parted out. It hooked right into the back of the speedometer. It had a yellow box if I remember right.
It would be cool to get a "shift light" adapter to signal the shift light at redline, but it is kind of too small to really serve a purpose. I'd rather have a tach or just use my ears.