1991 Ford Mustang Notchback 5.0 v8 for sale
1993 Ford Mustang Notchback 2.3 4 cylinder for sale
1987 Thunderbird Turbocoupe axle - Tbird 8.8 rear end for sale
Page showing both cars

I wish to sell all together. The two cars are silver and have original paint. Each are my daily drivers; one for good MPG, and one for fun. My target is about $2400 for everything. I think it is a good price range - for making it easy and taking everything I have tried to set a nice price. I will detail each item and then a overall summary will follow. PLEASE read the entire page before contacting. At this point 3-20-2010 I am not 100% ready to sell, so feeling out the questions and such but could be ready to sell in 1 week to serious buyer. This Thanks.

1: 1991 Ford Mustang Notch


This is my current (2010) daily driver. I bought it 100% original up to the air silencer. I spent much time and money preparing it for a hot engine but never got there, but did all the supporting work first: It has UMI full length subframe connectors and Wild Rides Battleboxes welded in. I bought a 190 lph walbro pump. I installed a Lentech AOD transmission and FMS aluminum driveshaft. I installed a Ford 9" rear. I got it all ready for the hot engine, but on the first day out after the work I was rear-ended at a stoplight. The welded subframe connectors kept the car straight on track, but the trunk, etc was smashed up. See the damage here. Because of this, the title is salvaged. I have been driving it as is: with the original stock, unmodified engine. Ive been daily driving it to work to get some use out of my work! I have put maybe 1500 miles on the car, because I was driving the 4 banger 90% of the time until I took out its black interior (better MPG and it flofit black seats comfy. This v8 could be fixed (body work), it could be raced out and forget the looks, or it could be a nice donor car, but its so complete I think you might want one of the eariler choices. I will be taking the rear and trans and probably the driveshaft, but I have a working AOD, the tbird rear will be bolted on to make the car a roller, but for now I am driving it.

2: 1993 Ford Mustang Notch


This car was my daily driver when the 1991 got hit. I drove it every day for 2 years. I bought it for its black interior, I was going to use it in the 1991. When I bought it, it had just recently had $2k of maintenance work done; water pump, timing set, head (valve job) fuel pump, etc. Its been a good car, nothing of note! It looks to me like the hood was repainted, but not sure. The car seems very nice and straight, I was thinking of racing it out with a carbureted 460, or converting it to 5.0 H.O. EFI. Its been a good DD for me. I parked it and pulled the black interior when I got the replacement for my crashed 1991 (white one). It had RED interior which is what is in this 1993. I have not as of this date completed the interior swap, but all the parts are 100% accounted for, and like the 1991, the arm rest, cigarette door, and else are in superior condition! (the Black interior that I removed was beat up - both were broken on it.

3: Thunderbird Turbo Coupe Axle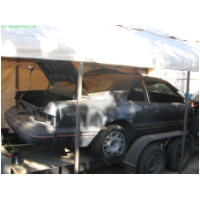 Turbo Coupe rear axle: these rear axles from '87-'88 had disc brakes, quad shocks, and limited slip (Traction-Lok LSD) from the factory.
8.8 rear removed from a 1987 Thunderbird turbocoupe. Man that was a great car! Everything but brakes.
See: http://www.coolcats.net/tech/general/axleinfo.html
"Cars with 5-speed transmissions had a 3.55 gear; automatics had the 3.73 ratio"
This car was a 5 speed and so has the 3.55:1 ring and pinion. This axle is nearly identical to the 1993 Cobra rear, the extra length and discs included.
Overall, there are two cars and the one turbocoupe rear axle. The cars will not be 100% complete. I will be just bolting in the tbird axle on the 1991 to make it a roller. I am driving it right now, If you are interested you can see the car while I am still driving it. The 1993 drives fine, but its interior is not installed back in. its all there both of these cars still have good interior pieces, the 1991 will have a trans but not installed. I guess Ill take a video with a time stamp showing me driving the 1991 to show that its a fine runner and driver. This page's purpose is to give info on what I am trying to do to give a heads up to the potential buyer and give them the most info and chance to see the cars right NOW before I am 100 ready to sell. I could be within a week if interest is there or the latest I will possibly have to wait is after April 25, 2010 the Knotts Berry Farm FAbulous Fords Forever show. My back is so bad, I gave up of these cars and bought a really nice white 1992 notchback! I have been keeping it nice for the show, but could step up my schedule for a serious buyer. email me lavath@netzero.net with questions about these two mustangs. I am in Anaheim, CA